You will find Orca vore on this page. It's my favorite type of Vore, but unfortunitly Orca vore is rare on the internet and elsewhere. To the best of my knowledge, this is the largest collection of orca vore on the internet (e-mail me if i'm wrong). Click on the pictures to enlarge them.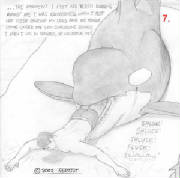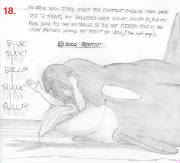 These have got to be the best orca vore pictures that I have found to date, and my favorite pictures on this entire site. They are from Chupacabra's dark fantasy site. They are the work of artist Aertist. I attempted to contact him for permission to use these pictures, but was unable to. They are samples of the story "Dark Ice" Definitly worth a read. To see all 24 wonderful pictures, go to
Chupandxena.com
, then follow this path
1. Art galleries
2. Vore
3. Aertist
4. Dark Iice.
One of our readers, Sharkman222, was kind enough to color one of these pictures for us. Thanks Sharkman!